With the Samsung Terrace range, enjoy the same unparalleled picture quality but in the great outdoors.
The Samsung Terrace brings the best of indoor entertainment outdoors. Whether you're watching the big game or a midnight movie, you'll be treated to bright and legendary QLED 4K quality. See it all in breath-taking colour and spectacular detail. Catch all the action and enjoy the full picture without distracting glare, thanks to Samsung's critically acclaimed Anti-Reflection Screen. Even when the day turns to night, The Terrace automatically adjusts brightness and contrast settings. From sports to drama, every moment is upscaled to glorious 4K resolution – even if it's not been filmed that way.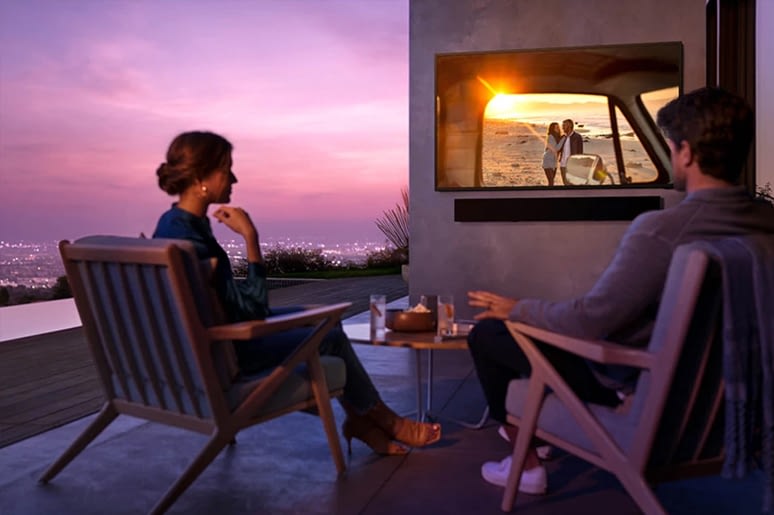 Ultra Bright Picture Quality
Turn everyday viewing into an epic outdoor entertainment experience, thanks to striking QLED 4K picture and 2,000-nits brightness. Whether you're watching the big game or a big blockbuster, you'll experience every detail with stunning clarity – even in the middle of the day.
Weatherproof Durability (IP55)
Enjoy entertainment outdoors, all year-round. With an IP55 rating, The Terrace brings spectacular TV viewing to your favourite outdoor spaces – and protected against water, dust and heat*.
*Protection from water and dust based on IP55 standard and operating smoothly at temperatures between -30 to 50℃. TV should not be exposed to direct rain or snow.
Anti-Reflection Screen
Never miss any of the action – even on those bright, sunny days*. Samsung's critically acclaimed anti-glare screen absorbs reflections, so you can enjoy TV in incredible colour and contrast, no matter the time of day. Enjoy the mid-day match, or lose yourself in a midnight movie – without distractions.
*TV should not be installed in direct sunlight, as continuous exposure to direct sunlight may cause damage to the panel.
Smart TV powered by Tizen
With the best-selling Samsung Smart TV* at your fingertips, it's never been easier to enjoy TV. Set it up in no time with your smartphone. Then you're only a few clicks away from all your must-see entertainment. Dive into a huge collection of 4K films, TV shows, and all your catch-up TV apps – including Netflix, Disney+, Apple TV, NOW TV and BT Sport apps** – all in one place at the touch of a button. Discover our easy-to-use and customisable Smart Hub platform and spend less time searching, and more time watching what you love, with tailored recommendations.
*Samsung TV has been the No.1 TV Brand for 14 consecutive years by Omdia. Rankings in terms of shipments. **Subscriptions required. Some apps may not be available at launch. 3rd party content providers may remove apps from the Smart TV platform or stop updating them at any time.
Quantum HDR 2000 powered by HDR10+
From gloomy shadows to sun-scorched scenes – see the spectacular detail in every shot, exactly as you're meant to. Thanks to leading HDR brightness, you'll see it in all true-to-life quality with rich colour and remarkable contrast. Plus, with HDR10+ every frame is optimised to perfection, so that every movie you watch looks just as the director intended.
To learn more about the Samsung Terrace TV range, get in touch with Nirvana AV here
Available in 55, 65, 75-in sizes.